Described as 'Cheers' for preschoolers, Disney's 'Doc McStuffins' is the best thing on TV for your precocious toddler.
Here's 5 reasons 'Doc McStuffins' is your kid's best friend.
She's A Little Black Doctor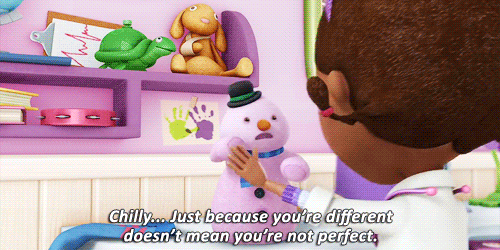 Dottie, who aspires to be an MD like her mother, uses her magic stethoscope on her toys to make them feel better. Looking to her "Big Book of Boo Boos" and encyclopedia "The Big Vet Book" to give check-ups and tend to her friends' ailments, Dottie is the perfect role model for young impressionable minds as she ventures the world of kiddie medicine.
She's A Huge Star On Disney Junior
'Doc McStufffins' is highly-praised for it's concept and lead Black character. The show was renewed for a fourth season in April of last year and continues to be one of Disney's best shows.
She's Cool With Michelle Obama
The First Lady made a special appearance on 'Doc McStuffins' to take Dottie and her toys on tour of the White House. Dottie and the FLOTUS team up to save the day after a little girl's toy gets damaged in all the excitement.
Loretta Divine Lends Her Voice To Her Hippo Friend Hallie McStuffins
Doc McStuffins brings along her friends Stuffy the Dragon, Hallie the Hippo, Lambie the Lamb and Chilly the Snowman on her daily medical adventures.
Loretta Devine took home the 2015 NAACP Image Award for Outstanding Character Voice-Over Performance for her role as Hallie The Hippo in "Doc McStuffins" and is nominated for the honor again this year.
Her Toys Are All The Rage
If you have a little girl (or boy), we're sure you've spent plenty evenings in Toys R' Us' searching for educational, yet fun toys for your tot. Between her magical stethoscope and uniform, any Doc McStuffins play is beneficial to your child.
'Doc McStuffins' is nominated for Outstanding Children's Program at the 47th annual NAACP Image Awards. Tune in to TV ONE on February 5 to see if Dottie wins!
The NAACP Image Awards Show is back for its 47th year on Feb. 5. Will you be watching? Tune in on TV One at 8/7 C for the red carpet and 9/8 C for the ceremony!
RELATED STORIES:
Michelle Obama Gets Animated On Disney's 'Doc McStuffins'
Loretta Devine Wins An NAACP Image Award For Outstanding Character Voice-Over Performance
5 Reasons 'Doc McStuffins' Is Your Kid's Best Friend  was originally published on hellobeautiful.com