I f you've logged on to Twitter or Instagram at all today (and since this is 2017, you more than likely have), then you've probably seen Kim Kardashian on the receiving end of scathing backlash for her recent comments made in defense of makeup artist Jeffree Star. But who is he? Admittedly, half of Team CASSIUS was looking at the whole thing like: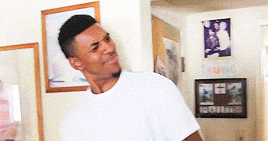 We did our Googles so that you wouldn't have to, but first, let's establish why we're even talking about these two in the first place.
On Monday, Kim K. took to Snapchat to give fans a look at new offerings from her KKW Beauty line, but it seems Star wasn't too impressed.  "Kim what is going on with those new swatches??" he tweeted after her reveal. "Looks like chalk."
While many folks agreed, Star's public condemnation of Kim K's makeup line caused her fans to roll in—deep. Star's history of racist behavior which resurfaced on the internet in June, immediately became a topic of discussion. Mrs. Kardashian-West, who claims she now "swatches better" because of the controversial MUA's influence, said we should all just get over it and leave Star's dirty laundry in the past. Twitter subsequently split into two sides, with some defending Kim and others aptly reading her tone deafness for filth.
Kim has since issued an apology for defending Star, stating she feels "a bit naive" and didn't know enough about the situation. "I do wanna really apologize for me feeling like I had the right to say get over it in a situation that involves racism," she said. "I really am sorry and I just wanna move forward and be positive."
Now that you're all caught up, some fast facts on Jeffree Star, assuming your eyes aren't stuck in the back of your head:
1 Star, who grew up in California, got into makeup at age 13. He now has over 10 years of experience and teaches classes worldwide.
2 Most would say his fame began on MySpace, where he also released music. In 2009, he released a remix of "Lollipop Luxury," which featured Nicki Minaj.
3 Star joined YouTube in 2006 where he talked life, makeup and tutorials. It was here that the aforementioned racist comments were made 12 years ago.
4 Star once called Black YouTuber Jackie Aina an "irrelevant rat" after she announced she would no longer be purchasing his products due to his racist remarks.
5 Star has appeared in film and on television, including LA Ink.
SEE ALSO:
Kim Kardashian & Kanye Divorce Rumors Hit The Tabloids
Kim Kardashian Posts Erotic Photos During Beyonce's "Lemonade" Debut, Twitter Wasn't Having It
Who Is Jeffree Star? Meet The 'Racist' MUA Who Has Your WCW Popping Off On Twitter Right Now  was originally published on newsone.com